MADRID
ABOUT THE CITY...
Immense museums, food and music culture and lots of movida: welcome to Madrid. The city is a center of attraction for party people from all over Europe and it has a lively, raunchy gay scene. Thanks to the very progressive laws of gay marriage and anti-discrimination, approved by Spain's government and parliament in 2005, Madrid was chosen to host the EuroPride 2007. The parade in the center of Madrid – with more than a million participants and visitors – became the hottest and most colourful gay pride parade Europe had ever seen. In summer 2017, Madrid also hosted the WorldPride. Madrid's main Gay Madrid scene is Chueca, which is in the old quarter at the center of Madrid.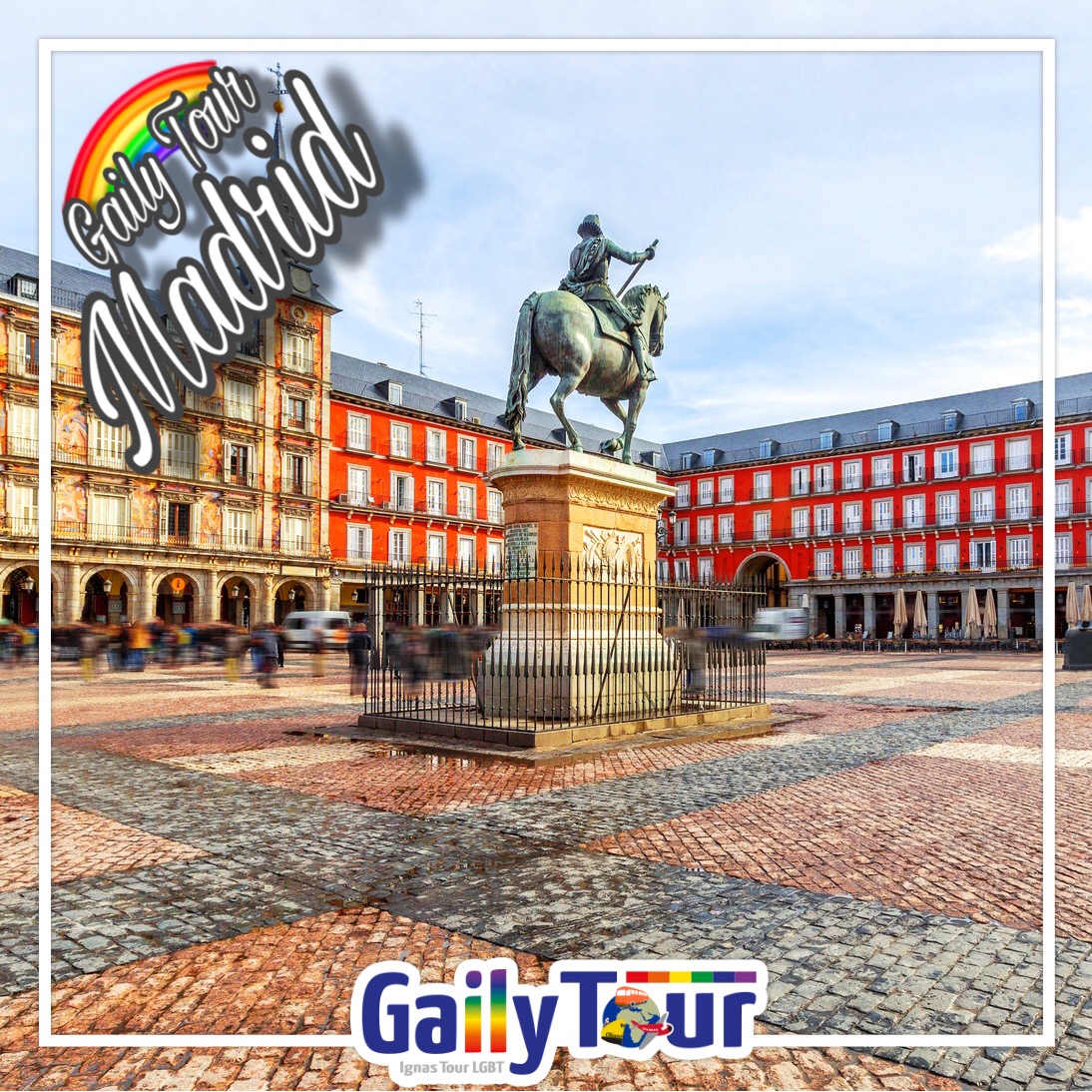 GAILY TOURS in MADRID
Get ready for special tours in this amazing city !
Meet our Gay/Lesbian Tour Guide for a private walking tour of Madrid and experience one of the most fascinating cities in the world.

Madrid • Royal Tour
Start your walking tour with our Gay/Lesbian Guide through the Capital City of Spain from the Puerta del Sol, the heart of the capital and Madrid's main square, soaking into the imperial Madrid walking the main street of Calle Mayor, where you will discover some of the oldest buildings in Madrid as Torre de los Lujanos, palaces of the XVI and XVII centuries, as well as two of the most beautiful squares in Madrid: Plaza Mayor and Plaza de la Villa, and beautiful examples of XIX century architecture as Mercado de San Miguel. Immerse yourself into the famous Plaza de España. Explore the Madrid of the Bourbon dynasty and finally visit incredible Royal Palace (entrance included), which is the largest functioning palace in Europe.
Included:
* Gay or Lesbian Tour Guide for City Tour (3 hours)
* Entrance Fee – Royal Palace

Madrid • Gay Tour & Chueca's Secrets
Be ready to explore the worldwide LGBT famous Chueca District, a something unique district which turned into the gay quarter of Madrid. Discover the LGBT history of the city together with our Gay/Lesbian Guide as well as the origin and transformation of this old marginal area in a cosmopolitan and avantgarde neighborhood. Enjoy a Sangria tasting (also alcohol free drink available) while looking hot boys and girls walking through this district. After your tour don't miss the opportunity to take part to a Chueca Nightlife Tour or Tapas in Chueca.
Included:
* Gay or Lesbian Tour Guide for City Tour (3 hours)
* Sangria Tasting (2 Glasses)

Madrid by Night • Gay Tour
Enjoy an enlightened Madrid and an amazing walking tour through Madrid's gay & lesbian bars and clubs to live on your skin the magic atmosphere and LGBT scene of the city. Enjoy your included drink (also alcohol free drink available) and own the night !
Included:
* Gay or Lesbian Tour Guide for Night Tour (2 hours)
* Drink in Gay Bar (1 Drink)


GAILY EXCURSIONS from MADRID
Get ready for a special full day Gaily Excursion with us !

Alcalá de Henares (from Madrid)
Aranjuez (from Madrid)
Toledo (from Madrid)
Avila, Segovia & El Escorial (from Madrid)
Included Features
Gay or Lesbian Friendly Tour Guide and/or Driver
Every Entrance Fee or Tasting described in the program
Not Included
Tips, City Taxes and everything not listed under "Included features"
LGBT Hotel Collection
N/A
Prices
Madrid • Royal Tour
Madrid • Gay Tour
Madrid by Night • Gay Tour
| 10 guests | 9 guests | 8 guests | 7 guests | 6 guests |
| --- | --- | --- | --- | --- |
| € 50 | € 55 | € 60 | € 65 | € 70 |
| 5 guests | 4 guests | 3 guests | 2 guests | 1 guest |
| € 80 | € 90 | € 110 | € 145 | € 250 |
* Price per Person
Rates are Commissionable
SHARED EXCURSION since you don't need a private one? No Problem !
You can take part to our amazing shared scheduled excursion in English with LGBT Friendly Tour Guide and share this fantastic experience with other travellers.
Contact us at info@GailyTour.com for more Info & Prices

* The tours are on request and rates are subject to the availability of the providers at the time of booking. Prices are subject to change if travel occur during trade shows, bank holidays or special events and supplements may be applied.
** Please check before booking the closing dates for the selected museums. If included museums are closed, Ignas Tour will refund the amount of that museum or choose an alternative one to visit.
Contact Us
Largo Cesare Battisti, 28
39044 Egna (BZ) - ITALY
VAT N° - IT01652670215
(+39) 0471 806 669
info@GailyTour.com