GAY BILBAO
ABOUT THE CITY...
Bilbao is the largest city in the Basque Country. The city found its fortunes thanks to iron exportation from its port. Nowadays, Bilbao has a prosperous cultural scene, leaded by the Guggenheim Museum, opened in 1997. Bilbao's gay scene is certainly lively. The majority of Bilbao's gay venues are located in the areas of Casco Viejo and Bilbao La Vieja, here lies a wide offer of bars and clubs. Bilbao is a very tolerant city, in July the city hosts the pride celebration which is very popular.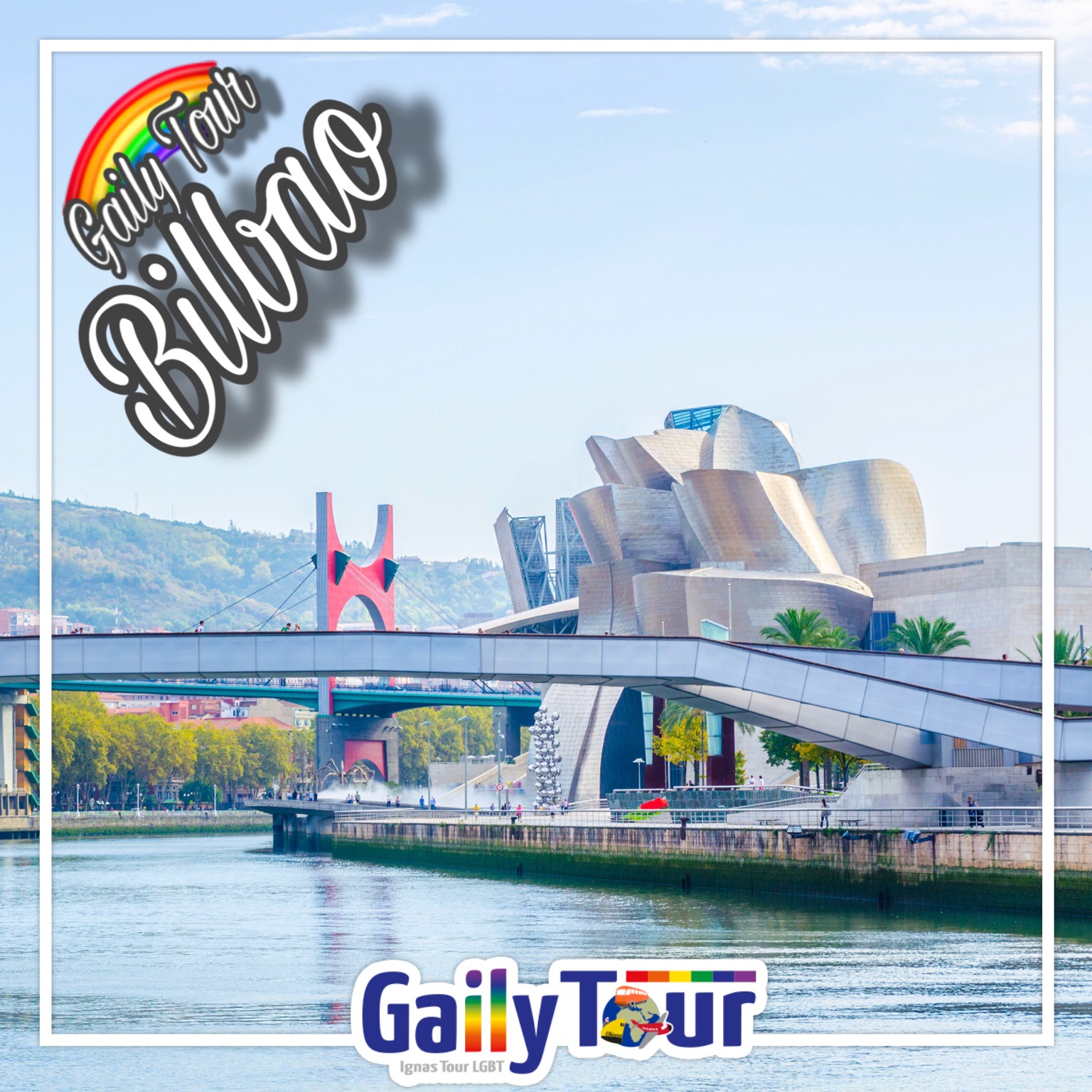 GAILY TOURS in BILBAO
Get ready for special tours in this amazing city !
Meet our Gay/Lesbian Tour Guide for a private walking tour of Bilbao Gay and experience one of the modern cities in the world.
Bilbao • Classic Tour
Enjoy a great walking tour the city including modern and ancient Bilbao. Watch the Ancient Bilbao's and its most famous sightseeings like Arriaga's Theatre, The Ribera Market, St James´s Square, Santiago's Cathedral (entrance included) and finally La Plaza Nueva. Afterwards continue to the Modern Bilbao, with the Iberdrola Tower, the Alhóndiga building, Zubi Zuri Bridge and the Izozaki Towers. During our Bilbao tour, you will learn about the city's 700 year old history and its connection to art and design.
Included:
* Gay or Lesbian Friendly Tour Guide for City Tour (3 hours)
* Entrance Fee - Santiago's Cathedral
Bilbao • Gay Tour & Guggenheim's Secrets
Admire the futuristic Guggenheim Museum during our Gay & Lesbian walking tour. Learn more about the architecture and sculptures inside this incredible museum. Described as the best building of the second half of the twentieth century, the Guggenheim Museum Bilbao has completely transformed Bilbao, putting the city on the world map and changing its image. Opened in 1997, it was designed by American architect Frank Gehry, who, after visiting the city, was very clear about its location. "That's the place", he exclaimed after observing a view of Bilbao from Mount Artxanda. During your tour, you will also learn more about the LGBT community, how it has been developed and how we live nowadays and letting them know about some important LGBT people in the history of the city.
Included:
* Gay or Lesbian Friendly Tour Guide for City Tour (3 hours)
* Entrance Fee - Guggeheim Museum
Bilbao by Night • Gay Tour
Enjoy an enlightened Bilbao and an amazing walking tour through Bilbao's gay & lesbian bars and clubs to live on your skin the magic atmosphere and LGBT scene of the city. Enjoy your included drink (also alcohol free drink available) and own the night !
Included:
* Gay or Lesbian Tour Guide for Night Tour (2 hours)
* Drink in Gay Bar (1 Drink)

GAILY EXCURSIONS from BILBAO
Get ready for a special full day Gaily Excursion from Bilbao Gay with us !
Basque Coast (from Bilbao)
San Sebastian & Biarritz (from Bilbao)
Elorrio, Oñati & Sanctuary of Arantzazu (from Bilbao)
Vitoria & Rioja (from Bilbao)
Loyola, Getaria, Zarauz & San Sebastian (from Bilbao)
Included Features
Gay or Lesbian Friendly Tour Guide and/or Driver
Every Entrance Fee or Tasting described in the program
Not Included
Tips, City Taxes and everything not listed under "Included features"
LGBT Hotel Collection
N/A
Prices
Bilbao • Classic Tour
Bilbao • Gay Tour
Bilbao by Night • Gay Tour
| 10 guests | 9 guests | 8 guests | 7 guests | 6 guests |
| --- | --- | --- | --- | --- |
| € 40 | € 50 | € 55 | € 60 | € 65 |
| 5 guests | 4 guests | 3 guests | 2 guests | 1 guest |
| € 70 | € 80 | € 100 | € 140 | € 250 |
* Price per Person
Rates are Commissionable

SHARED EXCURSION since you don't need a private one? No Problem !
You can take part to our amazing shared scheduled excursion in English with LGBT Friendly Tour Guide and share this fantastic experience with other travellers.
Contact us at info@GailyTour.com for more Info & Prices

* The tours are on request and rates are subject to the availability of the providers at the time of booking. Prices are subject to change if travel occur during trade shows, bank holidays or special events and supplements may be applied.
** Please check before booking the closing dates for the selected museums. If included museums are closed, Ignas Tour will refund the amount of that museum or choose an alternative one to visit.
Contact Us
Largo Cesare Battisti, 28
39044 Egna (BZ) - ITALY
VAT N° - IT01652670215
(+39) 0471 806 669
info@GailyTour.com