GAY SANTORINI
ABOUT THE CITY...
In the south Aegean Sea, south of Mykonos finds its place this strikingly beautiful Greek island. The island's due its unique geology a volcanic eruption, that has been recorded in 1450 b.C. as the largest in history. The centre of the original larger island dropped 300 meters below sea level after this event and generated the world famous giant lagoon, known as "The Caldera'. In the centre of the Caldera is an active volcanic cone that has formed a small, hot & ever-changing island. The towns of Fira, Imerovigli and Oia literally are located on the top of the cliffs overlooking the caldera and giving us views that can be some of the most dramatic in the world. Even though Santorini does not have any gay venues, the island attracts many gay tourists looking for charming weather and stunning sights.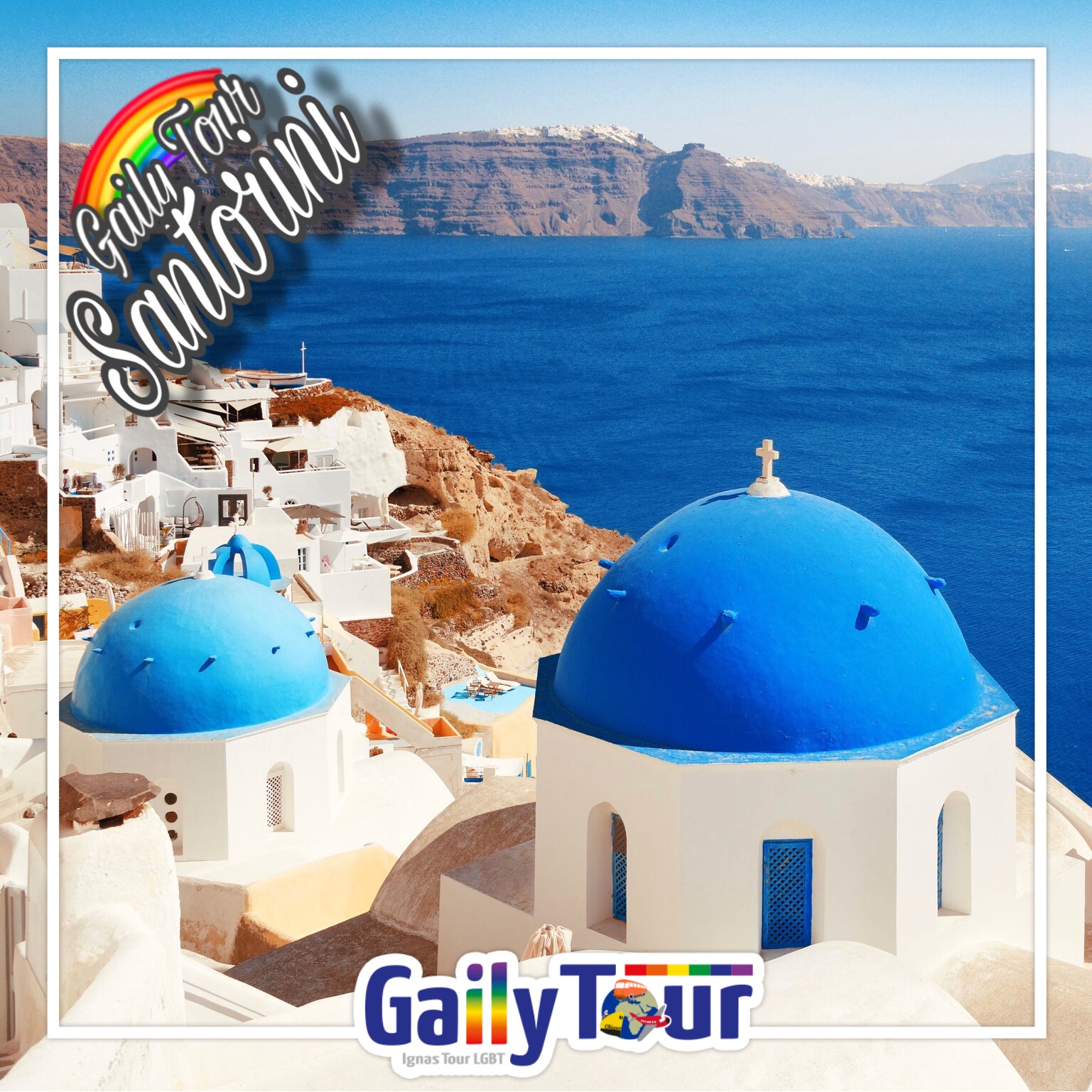 GAILY TOURS in SANTORINI
Get ready for special tours in this amazing city !
Meet our Gay/Lesbian Tour Guide for a private walking tour of Santorini Gay and experience one of the most amorous cities in the world.
Santorini • Historic Tour
Enjoy the turning back journey to the prehistoric site of Akrotiri. Guided visit with LGBT Friendly Tour Guide in the Minoan Town of Akrotiri, one of the most important prehistoric settlements of Greece. Akrotiri is a Bronze Age settlement on the southern side of Santorini that was destroyed by the huge volcanic eruption of Thera. As Akrotiri was entirely covered by volcanic ash, it was preserved in perfect conditions so as to be referred today as the Prehistoric Pompeii. Excavations in Akrotiri have revealed a place of dense urban planning, public buildings, paved streets, squares, store houses and walls decorated with amazing frescoes. These frescoes depict scenes of festival occasions and daily life. As they were covered by lava, they maintained their coloring amazingly well. Due to its way of destruction, Akrotiri has been frequently suggested as the location of the lost Atlantis.
Included:
* Gay or Lesbian Tour Guide for City Tour (2 hours)
* Car or Minibus Disposition for 2 Hours with LGBT Friendly Driver
* Entrance Fee - Akrotiri Archaeological Site
Santorini • Gay Friendly Tour & Oia and Fira's Secrets
Join this Gay friendly tour exploring the amazing village of Oia and the capital, Fira. Walk through the beautiful alleys of Oia, watch a romantic sunset and enjoy a relaxed night out in Fira town, where the heart of the island beats. According to an ancient Greek myth, Santorini was formed out of a miracle. The ancient Greeks had invented an imaginary story over the creation of Santorini island, a story that is connected to the Argonaut expedition. They said that Jason and his fellow companions were on their way home, they landed on Anaphe, a small island of the Aegean Sea. Discover the myth and many other mysteries of the island together with our local experts.
Included:
* Gay or Lesbian Tour Escort for City Tour (2 hours)
* Car or Minibus Disposition for 2 Hours with LGBT Friendly Driver

GAILY EXCURSIONS from SANTORINI
Get ready for a special full day Gaily Excursion from Santorini Gay with us !
Crete (from Santorini)
Mykonos (from Santorini)
Included Features
Gay or Lesbian Friendly Tour Guide and/or Driver
Every Entrance Fee or Tasting described in the program
Not Included
Tips, City Taxes and everything not listed under "Included features"
LGBT Hotel Collection
N/A
Prices
Santorini • Historic Tour
Santorini • Gay Tour
| 10 guests | 9 guests | 8 guests | 7 guests | 6 guests |
| --- | --- | --- | --- | --- |
| € 60 | € 80 | € 90 | € 100 | € 110 |
| 5 guests | 4 guests | 3 guests | 2 guests | 1 guest |
| € 120 | € 140 | € 190 | € 280 | € 490 |
* Price per Person
Rates are Commissionable

SHARED EXCURSION since you don't need a private one? No Problem !
You can take part to our amazing shared scheduled excursion in English with LGBT Friendly Tour Guide and share this fantastic experience with other travellers.
Contact us at info@GailyTour.com for more Info & Prices

* The tours are on request and rates are subject to the availability of the providers at the time of booking. Prices are subject to change if travel occur during trade shows, bank holidays or special events and supplements may be applied.
** Please check before booking the closing dates for the selected museums. If included museums are closed, Ignas Tour will refund the amount of that museum or choose an alternative one to visit.
Contact Us
Largo Cesare Battisti, 28
39044 Egna (BZ) - ITALY
VAT N° - IT01652670215
(+39) 0471 806 669
info@GailyTour.com