GAY ATHENS
ABOUT THE CITY...
Athens isn't just an LGBTQ-friendly city, it's a place with a very long history of sexual liberalism that prides itself on catering to all its communities, affording everyone the widest possible range of choices. While the history of homosexuality is an essential part of Greek culture, Greeks are very covert about their sexuality, possibly due to modern Orthodoxy. Homosexuality is completely legal in Greece and more accepted in Athens than elsewhere in the country.

THE BEST LGBT FRIENDLY HOTELS IN ATHENS
(Click on the Link to See the rates and book them)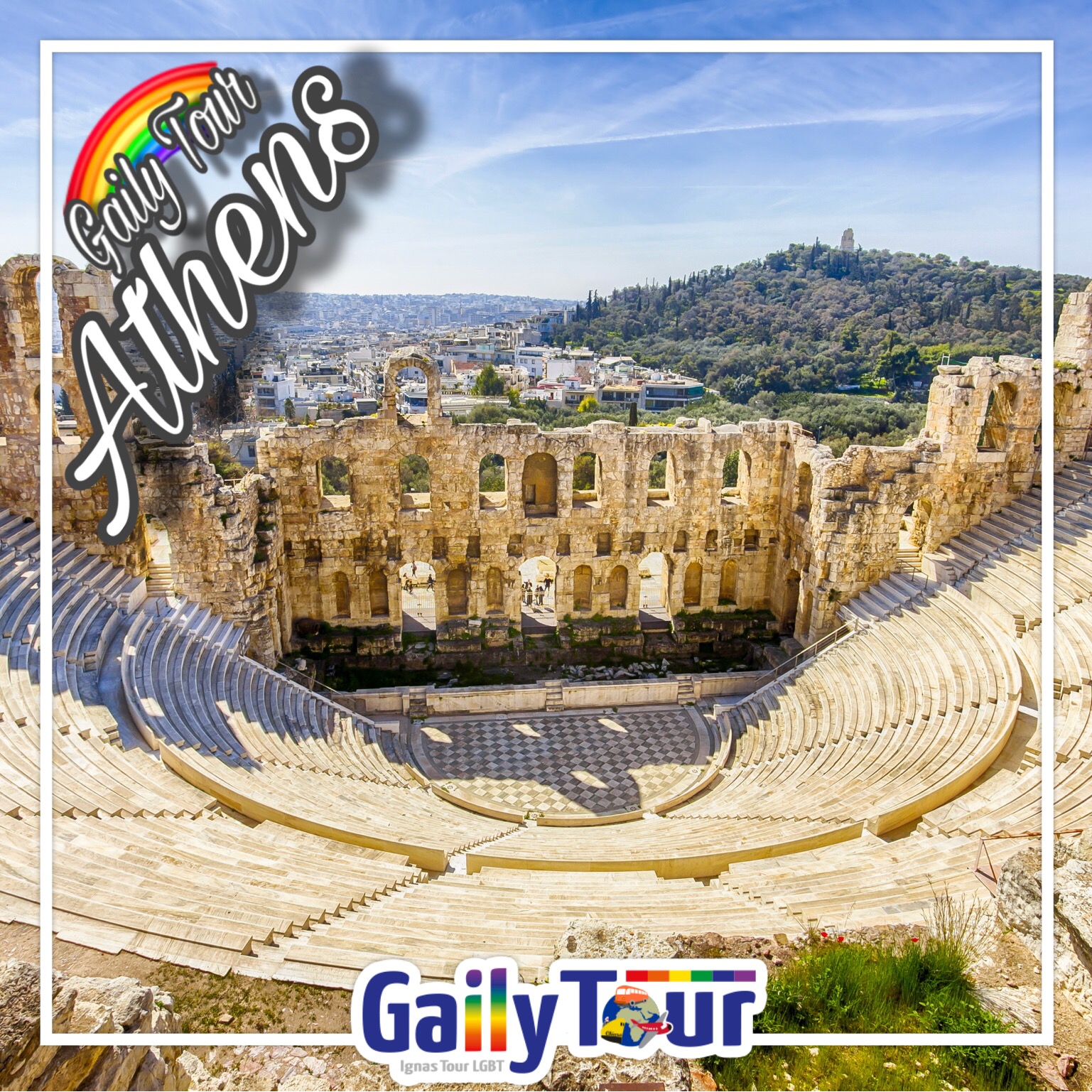 GAILY TOURS in ATHENS
Get ready for special tours in this amazing city !
Meet our Gay/Lesbian Tour Guide for a private walking tour of Athens and experience one of the most ancient cities in the world.
Athens • Historic Tour
Meet our LGBT Friendly Tour and be ready to enter one of the most important archeological site in the world: Athens' Acropolis ! Enter the Acropolis from the south slope to avoid the crowds and also to visit the Dionysus sanctuary and Dionysus Theatre built in the 5th century BC. On your way to the Acropolis, enjoy the marvellous view that unfolds before your eyes. Explore the mighty Acropolis on foot to see the glorious Parthenon, the Erechtheion, the Propylaia, the Nike Temple, the Agrippa Monument and other highlights. Learn more about its history, observe the statues from archaic period, Caryatids, and of course the Parthenon hall. Afterwards continue to the Agora, among the ruins of public buildings where we will see the temple of Hephaestus, the best preserved temple of the ancient times. The tour ends with a short walk to the ruins of the Roman Agora, in the heart of Monastiraki flea market area.
Included:
* Gay or Lesbian Friendly Tour Guide for City Tour (3 hours)
* Skip-The-Line Entrance Fee – Parthenon & Acropolis, Agora, Theatre of Dionysus
Athens • Gay Tour & Gazi's Secrets
Enjoy this special LGBT version of Athens starting our tour from Gazi, formerly an industrial area where now art and technology meet in the city's cultural hub known as Technopolis, a museum and exhibition space housed in Athens' old gasworks. This is also the center of gay life in the city, with inviting bars and exciting clubs. On the weekends the gay venues become completely packed in this area, the streets become filled with gorgeous people moving from venue to venue. Afterwards learn more about Athens homosexual history. Once upon a time, Greece was the center of all things homosexual. In the ancient tails of Zeus it was said that he had taken a boy, Ganymede, as a lover. In ancient Grecian times it was not uncommon for wealthy and affluent unmarried men to take male lovers. Observe the Kerameikos ancient cemetery, which includes part of the Themistoclean Wall and the Sacred Gate, which was the most important cemetery of ancient Athens and owes its name to the neighborhood of potters who inhabited the area. Afterwards continue to the neighborhood of Psyrri, an arty and bohemian place. Old fashioned artisans workshops, hidden alleys, counter culture and alternative spaces, street art, popular bars and traditional restaurants, coexist in harmony, creating a fascinating atmosphere full of surprises. The young crowd love it and keep the nightlife busy.
Included:
* Gay or Lesbian Friendly Tour Guide for City Tour (3 hours)
* Entrance Fee – Kerameikos
* Visit the Industrial Gas Museum
Athens by Night • Gay Tour
Enjoy an enlightened Athens and an amazing walking tour through Athens' gay & lesbian bars and clubs to live on your skin the magic atmosphere and LGBT scene of the city. Enjoy your included drink (also alcohol free drink available) and own the night !
Included:
* Gay or Lesbian Friendly Tour Guide for Night Tour (2 hours)
* Drink in Gay Bar (1 Drink)

GAILY EXCURSIONS from ATHENS
Get ready for a special full day Gaily Excursion with us !
Delphi (from Athens)
Meteora (from Athens)
Cape Sounion and Temple of Poseidon (from Athens)
Corinth, Cave of Lakes, and Odontotos Railway (from Athens)
Hydra Island (from Athens)
Epidaurus, Nafplio, and Mycenae (from Athens)
Included Features
Gay or Lesbian Friendly Tour Guide and/or Driver
Every Entrance Fee or Tasting described in the program
Not Included
Tips, City Taxes and everything not listed under "Included features"
LGBT Hotel Collection
N/A
Prices
Athens • History Tour
Athens • Gay Tour
Athens by Night • Gay Tour
| 10 guests | 9 guests | 8 guests | 7 guests | 6 guests |
| --- | --- | --- | --- | --- |
| € 60 | € 70 | € 75 | € 80 | € 85 |
| 5 guests | 4 guests | 3 guests | 2 guests | 1 guest |
| € 90 | € 105 | € 125 | € 175 | € 320 |
* Price per Person
Rates are Commissionable


SHARED EXCURSION since you don't need a private one? No Problem !
You can take part to our amazing shared scheduled excursion in English with LGBT Friendly Tour Guide and share this fantastic experience with other travellers.
Contact us at info@GailyTour.com for more Info & Prices

* The tours are on request and rates are subject to the availability of the providers at the time of booking. Prices are subject to change if travel occur during trade shows, bank holidays or special events and supplements may be applied.
** Please check before booking the closing dates for the selected museums. If included museums are closed, Ignas Tour will refund the amount of that museum or choose an alternative one to visit.
Contact Us
Largo Cesare Battisti, 28
39044 Egna (BZ) - ITALY
VAT N° - IT01652670215
(+39) 0471 806 669
info@GailyTour.com