NICE
ABOUT THE CITY...
Only after Paris, Nice has recently turned into one of the most may-friendly city in France. Despite other cities like Montpellier, Lyon and Marseille, that can claim a prominent LGBT community; Nice now has a wider offer of gay-oriented venues and a friendlier and warm welcoming LGBT atmosphere. Thanks to many LGBT-oriented events that are taking place in Nice, like the annual gay pride, the new Queernaval, LGBT film festivals and many more, the city is one of the newest gay pearl of the Mediterranean area.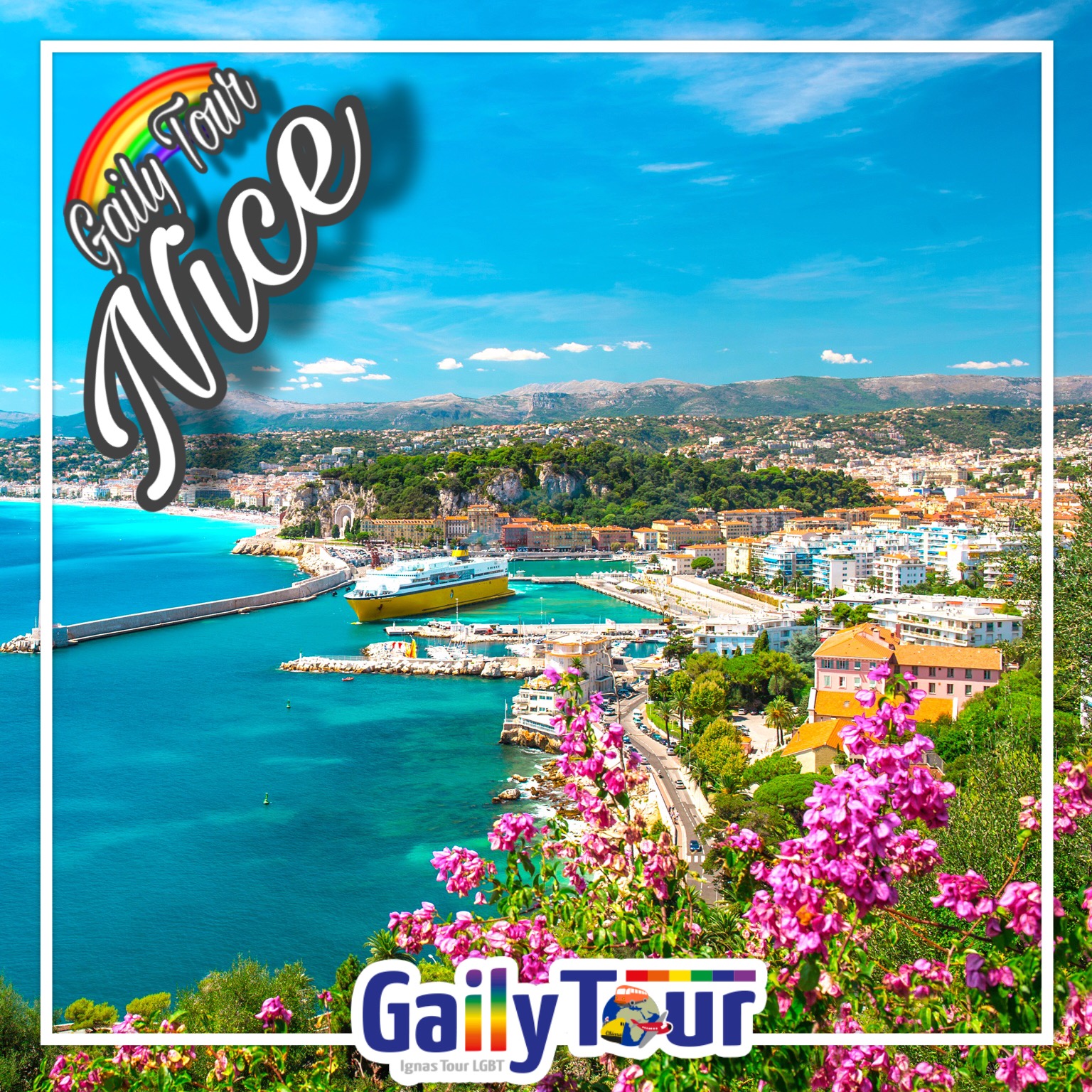 GAILY TOURS in NICE
Get ready for special tours in this amazing city !
Meet our Gay/Lesbian Tour Guide for a private walking tour of Nice and experience one of the most joyful cities in the world.

Nice • Gay Tour & Promenade's Secrets
Start this incredible LGBT Friendly walking tour from Nice Old Town and the Cours Saleya, then continue on the Promenade des Anglais to the Negresco Hotel and Villa Massena (which houses the excellent Massena Museum). During the tour learn more about the Gay life in the city, gay bars, the gay-friendly neighborhood and the LGBT Center of the Côte d'Azur, but also many curiosities about one of the most famous event of the city: the Carnival, originated in the Middle Ages as a festival authorized by the church, allowing anyone wearing a mask to safely ridicule those in power. While walking through the city, you'll find brightly colored façades that reflect the colors and style of the Sardinian architecture. Rue de Bonaparte is also now considered the gay neighborhood in Nice but you'll find gay-owned businesses throughout the city. Continue through the pedestrian zone, a good place to shop, have a drink and, at the end of the street, you will reach Place Massena, with the Sun fountain (fontaine du soleil) located at its south, in the center of which is a 7m high statue of Apollo. On your right is the Jardin Albert 1er with its monumental arch of 115.5 degrees. Continue along the Promenade du Paillon, where the Nice water mirror is located. This park leads you directly to Garibaldi Square. Afterwards walk to the Hill of the Castle where used to be the most threatened fortress of the Mediterranean bassin, walking up the stairs or using the elevator, in order to enjoy the sunset !
Included:
* Gay or Lesbian Friendly Tour Guide for City Tour (3 hours)
* Entrance - Massena Museum

Nice by Night • Gay Tour
Enjoy an enlightened Nice and an amazing walking tour through Nice's gay & lesbian bars and clubs to live on your skin the magic atmosphere and LGBT scene of the city. Enjoy your included drink (also alcohol free drink available) and own the night !
Included:
* Gay or Lesbian Tour Guide for Night Tour (2 hours)
* Drink in Gay Bar (1 Drink)

GAILY EXCURSIONS from NICE
Get ready for a special full day Gaily Excursion with us !

Marseille (from Nice)
Monaco, Monte Carlo & Eze (from Nice)
Saint Tropez (from Nice)
Cannes, Gourdon & Saint-Paul-de-Vence (from Nice)
San Remo & Ventimiglia (from Nice)
Included Features
Gay or Lesbian Friendly Tour Guide and/or Driver
Every Entrance Fee or Tasting described in the program
Not Included
Tips, City Taxes and everything not listed under "Included features"
LGBT Hotel Collection
N/A
Prices
Nice • Gay Tour
| 10 guests | 9 guests | 8 guests | 7 guests | 6 guests |
| --- | --- | --- | --- | --- |
| € 25 | € 30 | € 35 | € 40 | € 45 |
| 5 guests | 4 guests | 3 guests | 2 guests | 1 guest |
| € 50 | € 55 | € 65 | € 90 | € 170 |
* Price per Person
Rates are Commissionable

Nice by Night • Gay Tour
| 10 guests | 9 guests | 8 guests | 7 guests | 6 guests |
| --- | --- | --- | --- | --- |
| € 25 | € 30 | € 35 | € 40 | € 45 |
| 5 guests | 4 guests | 3 guests | 2 guests | 1 guest |
| € 50 | € 55 | € 65 | € 90 | € 170 |
* Price per Person
Rates are Commissionable


SHARED EXCURSION since you don't need a private one? No Problem !
You can take part to our amazing shared scheduled excursion in English with LGBT Friendly Tour Guide and share this fantastic experience with other travellers.
Contact us at LGBT@ignastour.com for more Info & Prices

* The tours are on request and rates are subject to the availability of the providers at the time of booking. Prices are subject to change if travel occur during trade shows, bank holidays or special events and supplements may be applied.
** Please check before booking the closing dates for the selected museums. If included museums are closed, Ignas Tour will refund the amount of that museum or choose an alternative one to visit.
Contact Us
Largo Cesare Battisti, 28
39044 Egna (BZ) - ITALY
VAT N° - IT01652670215
(+39) 0471 806 692
info@GailyTour.com