VIENNA
ABOUT THE CITY...
Vienna is full of gay and lesbian history like almost no other European city. Not only the capital of European music, but also cradle of Gay emperors, generals and artists who turned Vienna into a special LGBT travel destination. Vienna has an amazing gay and lesbian scene: from gay and queer café to cocktail bar, from lesbian restaurant to leather place, from gay spas to dance club. Moreover, the city holds a special range of cultural and culinary delights.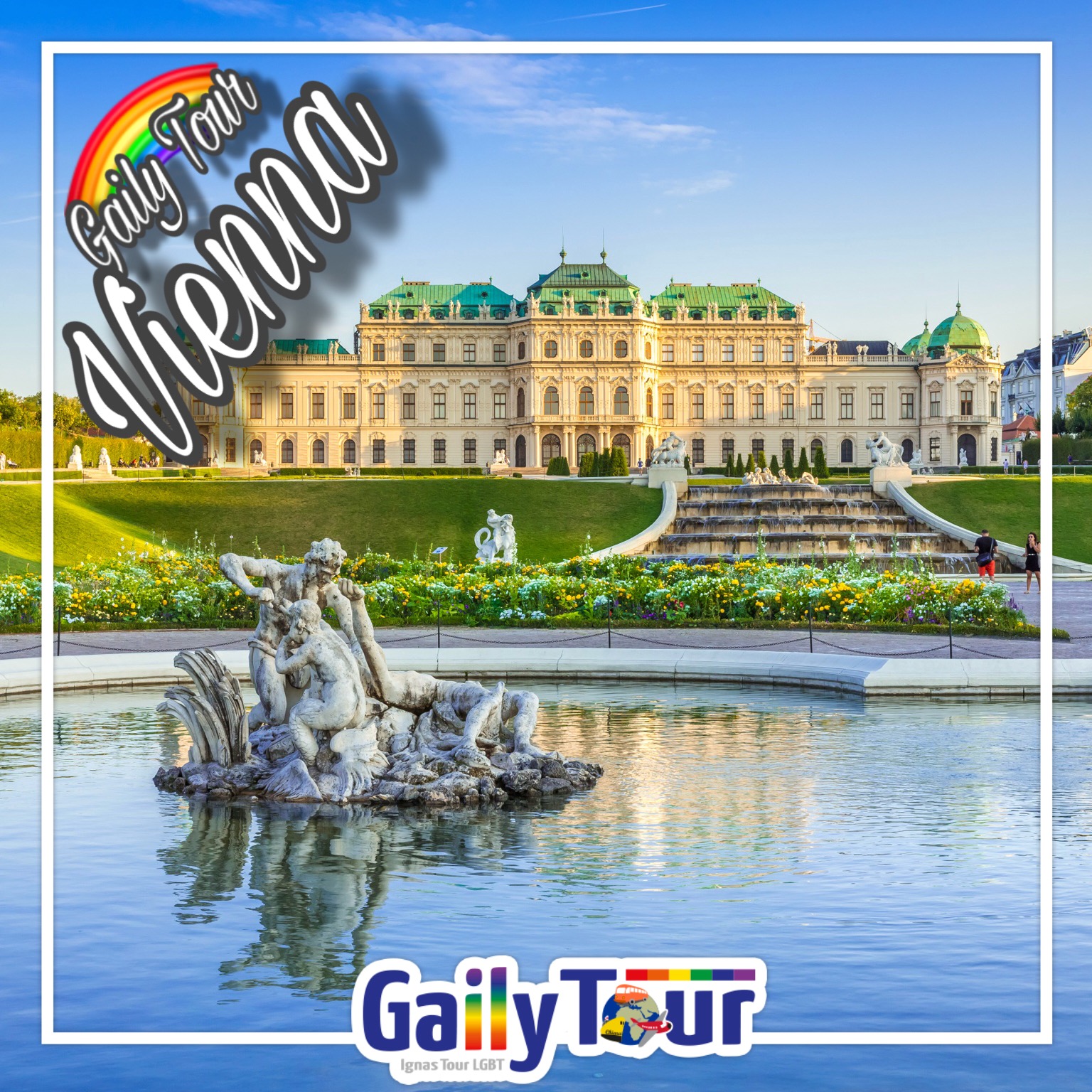 GAILY TOURS in VIENNA
Get ready for special tours in this amazing city !
Meet our Gay/Lesbian Tour Guide for a private walking tour of Vienna and experience one of the most regal cities in the world.

Vienna • Royal Tour
Start your special tour with our Gay/Lesbian Guide from the special Belvedere Palace (entrance ticket included), actually two palaces in one. Undoubtedly one of Vienna's most visited historic sites, this splendid attraction consists of two Baroque palaces built for Prince Eugene: the Lower (Unteres) Belvedere and the Upper (Oberes) Belvedere. Continue to the Museumsquartier, for a short view of this artist place, and the worldwide famous Vienna State Opera, built by the couple of men architects Eduard van der Nüll and August Sicard von Sicardsburg, partners in business and in life. Then walk along the Ringstrasse, Vienna's main boulevard, over to the Imperial Palace ("Hofburg"), one of the biggest palace complexes in the world and residence and seat of government of the Habsburg emperors until 1918. Today, it is home to numerous museums with outstanding collections, the Spanish Riding School, a congress center, the seat of the Austrian Federal President as well as the historic Heldenplatz.
Included:
* Gay or Lesbian Tour Guide for City Tour (3 hours)
* Entrance Fee – Belvedere Palace

Vienna • Gay Tour & Schubert's Secrets
Let's start you amazing Gay tour of Vienna together with our Gay/Lesbian Guide, from famous Karlsplatz with the imposing Karlskirche, passing by the Technical University and reaching Kettenbrückengasse 6, the death place of composer Franz Schubert, who died of Syphilis supposedly caused by the only sexual experience Schubert ever had with a woman, although during his life he concentrated his desires on male partners. For more than two years he shared his studio and his bed with the well-known homosexual librettist Johann Baptist Mayerhofer. Explore the house where Schubert died. The exhibits document the last weeks of his life, Schubert's death, the funeral, and the grave of the composer just near Beethoven's last resting place in what was then the Währing local cemetery. Then continue to the Naschmarkt, the center of today's gay life, where you will taste some local specialities from one of the many local stands. After passing through the Museumsquartier and the Volksgarten, you will reach the so-called "Theseustempel" built in 1820 by Antonio Canova. Here, in front of the temple, the bronze sculpture "The Winner" was created by Josef Müllner and destined to be one of the "gay monuments" of the city.
Included:
* Gay or Lesbian Tour Guide for City Tour (3 hours)
* Entrance Fee – Schubert Sterbewohnung (Opened on Wednesdays and Thursdays)

Vienna by Night • Gay Tour
Enjoy an enlightened Vienna and an amazing walking tour through Vienna's gay & lesbian bars and clubs to live on your skin the magic atmosphere and LGBT scene of the city. Enjoy your included drink (also alcohol free drink available) and own the night !
Included:
* Gay or Lesbian Tour Guide for Night Tour (2 hours)
* Drink in Gay Bar (1 Drink)


GAILY EXCURSIONS from VIENNA
Get ready for a special full day Gaily Excursion with us !

Bratislava (from Vienna)
Mauthausen (from Vienna)
Salzburg (from Vienna)
Melk Abbey (from Vienna)
Hallstatt (from Vienna)
Wachau Valley (from Vienna)
Prague (from Vienna)
Budapest (from Vienna)

Included Features
Gay or Lesbian Friendly Tour Guide and/or Driver
Every Entrance Fee or Tasting described in the program
Not Included
Tips, City Taxes and everything not listed under "Included features"
LGBT Hotel Collection
N/A
Prices
Vienna • Royal Tour
Vienna • Gay Tour
Vienna by Night • Gay Tour
| 10 guests | 9 guests | 8 guests | 7 guests | 6 guests |
| --- | --- | --- | --- | --- |
| € 40 | € 50 | € 60 | € 65 | € 70 |
| 5 guests | 4 guests | 3 guests | 2 guests | 1 guest |
| € 75 | € 80 | € 95 | € 130 | € 230 |
* Price per Person
Rates are Commissionable

SHARED EXCURSION since you don't need a private one? No Problem !
You can take part to our amazing shared scheduled excursion in English with LGBT Friendly Tour Guide and share this fantastic experience with other travellers.
Contact us at info@GailyTour.com for more Info & Prices

* The tours are on request and rates are subject to the availability of the providers at the time of booking. Prices are subject to change if travel occur during trade shows, bank holidays or special events and supplements may be applied.
** Please check before booking the closing dates for the selected museums. If included museums are closed, Ignas Tour will refund the amount of that museum or choose an alternative one to visit.
Contact Us
Largo Cesare Battisti, 28
39044 Egna (BZ) - ITALY
VAT N° - IT01652670215
(+39) 0471 806 669
info@GailyTour.com