GAY SALZBURG
ABOUT THE CITY...
Salzburg is Austria's 4th largest city and one of the most prosperous town in the European countries. The city is widely known as the birthplace of Mozart and as the setting of The Sound of Music one of Salzburg's highlight. LGBT travelers are welcome here, there are lots of gay bars and gay activities. The fairy-tale setting has turned the city into a popular destination for gay marriages, that's why several hotels and organizations dedicated to these ceremonies have flourished here.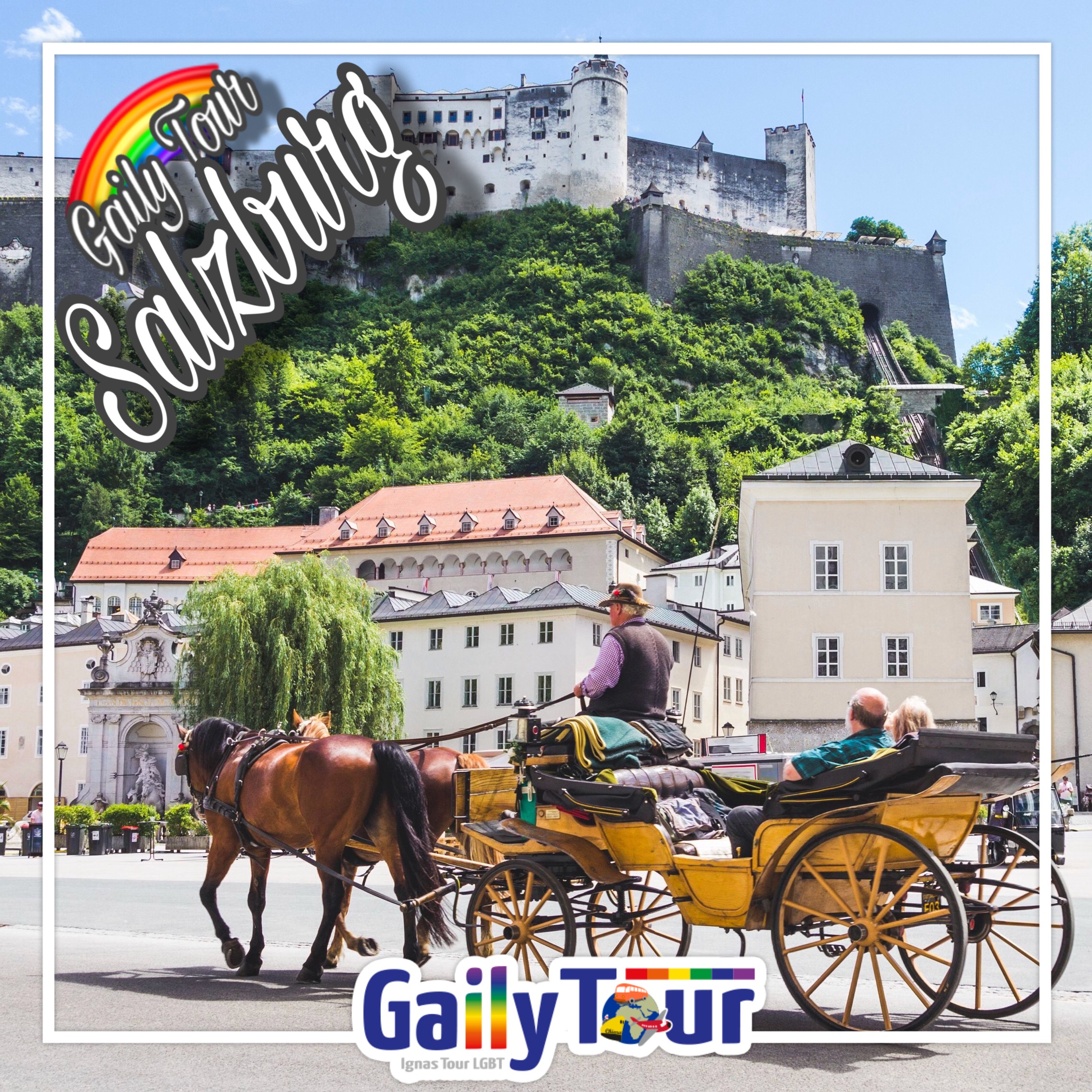 GAILY TOURS in SALZBURG
Get ready for special tours in this amazing city !
Meet our Gay/Lesbian Tour Guide for a private walking tour of Salzburg Gay and experience one of the most royal cities in the world.

Salzburg • Classic Tour
Let's start you amazing tour of Salzburg with the Mirabell Palace Gardens and the Altstadt / Old Town of Salzburg which earned a spot on UNESCO's World Heritage List in 1997. The designation as a World Heritage Site and the city's strict preservation laws, have helped protect the architecture and layout of Salzburg. Pass by the Domplatz and Salzburg's Cathedral, dedicated to St. Rupert and St. Virgil. Continue then your tour towards Salzburg's key landmark, Hohensalzburg Fortress. This medieval castle is the largest fully-preserved fortress in central Europe. It's so imposing that it has never been conquered by enemy troops. Explore the Fortress and enjoy the amazing tour.
Included:
* Gay or Lesbian Friendly Tour Guide for City Tour (3 hours)
* Entrance Fee – Hohensalzburg Fortress

Salzburg • Gay Tour & Imperial Family's Secrets
Experience a Gay Friendly city walking tour and visit Mozarts birthplace. A lovely tour showing you the most impressing architectural and art-historical highlights of Salzburg, such as Getreidegasse and Mozart's birth place, one of the most visited museums in Austria, the cathedral and the famous places around with Europe's biggest fountain at Residenzplatz. Until 1927, the Old Market in Salzburg old town was called Ludwig Viktor Square, named after the youngest brother of the former Habsburg emperor. During our LGBT walking tour you will discover the secrets of "Luziwuzi" alias Archduke Ludwig Viktor of Austria, the famous, youngest and more or less openly gay brother of Emperor Franz Joseph I of Austria. This accesses gay contemporary and historical themes and leads to places where expressionist writer Georg Trakl, born in Salzburg, wrote romantic poems. The local scene around the Linzer Gasse is included on the tour as well as the stumbling blocks laid for, among others, for the homosexual victims of the Nazi time.
Included:
* Gay or Lesbian Friendly Tour Guide for City Tour (3 hours)
* Entrance Fee – Mozart's Birthplace

Salzburg by Night • Gay Tour
Enjoy an enlightened Salzburg and an amazing walking tour through Salzburg's gay & lesbian bars and clubs to live on your skin the magic atmosphere and LGBT scene of the city. Enjoy your included drink (also alcohol free drink available) and own the night !
Included:
* Gay or Lesbian Tour Guide for Night Tour (2 hours)
* Drink in Gay Bar (1 Drink)

GAILY EXCURSIONS from SALZBURG
Get ready for a special full day Gaily Excursion from Salzburg Gay with us !
Hallstatt & Salt Mine (from Salzburg)

Berchtesgaden, Hitler's Eagle's Nest & Königssee (from Salzburg)
Be ready to start this incredible LGBT Friendly Tour from Salzburg to the Magical Bavarian Alps. Your journey starts with a scenic drive from Salzburg past the Sound of Music meadow to Obersalzberg Eagle's Nest bus terminal. Nestled into the mountains, Berchtesgaden offers many attractions and activities. At the top of the list is the historic Eagles Nest mountaintop house; it was built by the Nazi party as a place for Hitler to impress visiting dignitaries. This 'tea house' is now a restaurant and the mountaintop views of the splendid alpine landscape are the highlight of the trip. Continue to the famous Königsee, which is the heart of a national park. Lunch on your own during the tour. During your tour discover the village of Berchtesgaden and Rossfeld. Learn more about LGBT life and community in this amazing area. After the tour back to Salzburg to your hotel.
Included:
* LGBT Friendly Driver for Gaily Excursion
* Gay or Lesbian Friendly Tour Guide for Gaily Excursion
* Visit to Eagles Nest, Königssee, Berchtesgaden town and Rossfeld
Munich (from Salzburg)
Included Features
Gay or Lesbian Friendly Tour Guide and/or Driver
Every Entrance Fee or Tasting described in the program
Not Included
Tips, City Taxes and everything not listed under "Included features"
LGBT Hotel Collection
N/A
Prices
Salzburg • Classic Tour
Salzburg • Gay Tour
Salzburg by Night • Gay Tour
| 10 guests | 9 guests | 8 guests | 7 guests | 6 guests |
| --- | --- | --- | --- | --- |
| € 40 | € 50 | € 55 | € 60 | € 65 |
| 5 guests | 4 guests | 3 guests | 2 guests | 1 guest |
| € 70 | € 85 | € 105 | € 145 | € 265 |
* Price per Person
Rates are Commissionable
Gaily Excursion from Salzburg • Berchtesgaden, Eagle's Nest and Königssee
| 10 guests | 9 guests | 8 guests | 7 guests | 6 guests |
| --- | --- | --- | --- | --- |
| € 120 | € 140 | € 160 | € 180 | € 210 |
| 5 guests | 4 guests | 3 guests | 2 guests | 1 guest |
| € 250 | € 350 | € 410 | € 610 | € 1.210 |
* Price per Person
Rates are Commissionable
SHARED EXCURSION
since you don't need a private one? No Problem !
You can take part to our amazing shared scheduled excursion in English with LGBT Friendly Tour Guide and share this fantastic experience with other travellers.
Contact
us at
info@GailyTour.com
for more
Info & Prices
* The tours are on request and rates are subject to the availability of the providers at the time of booking. Prices are subject to change if travel occur during trade shows, bank holidays or special events and supplements may be applied.
** Please check before booking the closing dates for the selected museums. If included museums are closed, Ignas Tour will refund the amount of that museum or choose an alternative one to visit.
| 10 guests | 9 guests | 8 guests | 7 guests | 6 guests |
| --- | --- | --- | --- | --- |
| € 40 | € 50 | € 55 | € 60 | € 65 |
| 5 guests | 4 guests | 3 guests | 2 guests | 1 guest |
| € 70 | € 85 | € 105 | € 145 | € 265 |
* Price per Person
Rates are Commissionable
Contact Us
Largo Cesare Battisti, 28
39044 Egna (BZ) - ITALY
VAT N° - IT01652670215
(+39) 0471 806 669
info@GailyTour.com