INNSBRUCK
ABOUT THE CITY...
Innsbruck was once the seat of the imperial court of Maximilian I. Today the city can be easily explored thanks to the trams that make their way around. Just a few of the sights along the way are the Tyrolean Folk Art Museum, Schloss Ambras, the 10th-century castle constructed by Archduke Ferdinand II, Maximilian I's Golden Roof, and the Imperial Palace. Innsbruck is nestled right in the heart of the Alps and offers visitors an unforgettable experience. Innsbruck hosted the Winter Olympics twice and therefore it is the largest ski resort in the region and offers a host of outdoor activities. Here there is truly something for everyone to enjoy. Strolling along Innsbruck's most famous pedestrian street you will find exciting historical landmarks, inviting sidewalk cafes, and world-class boutiques. The city's proximity to Munich as well as northern Italy make it a top alpine destination.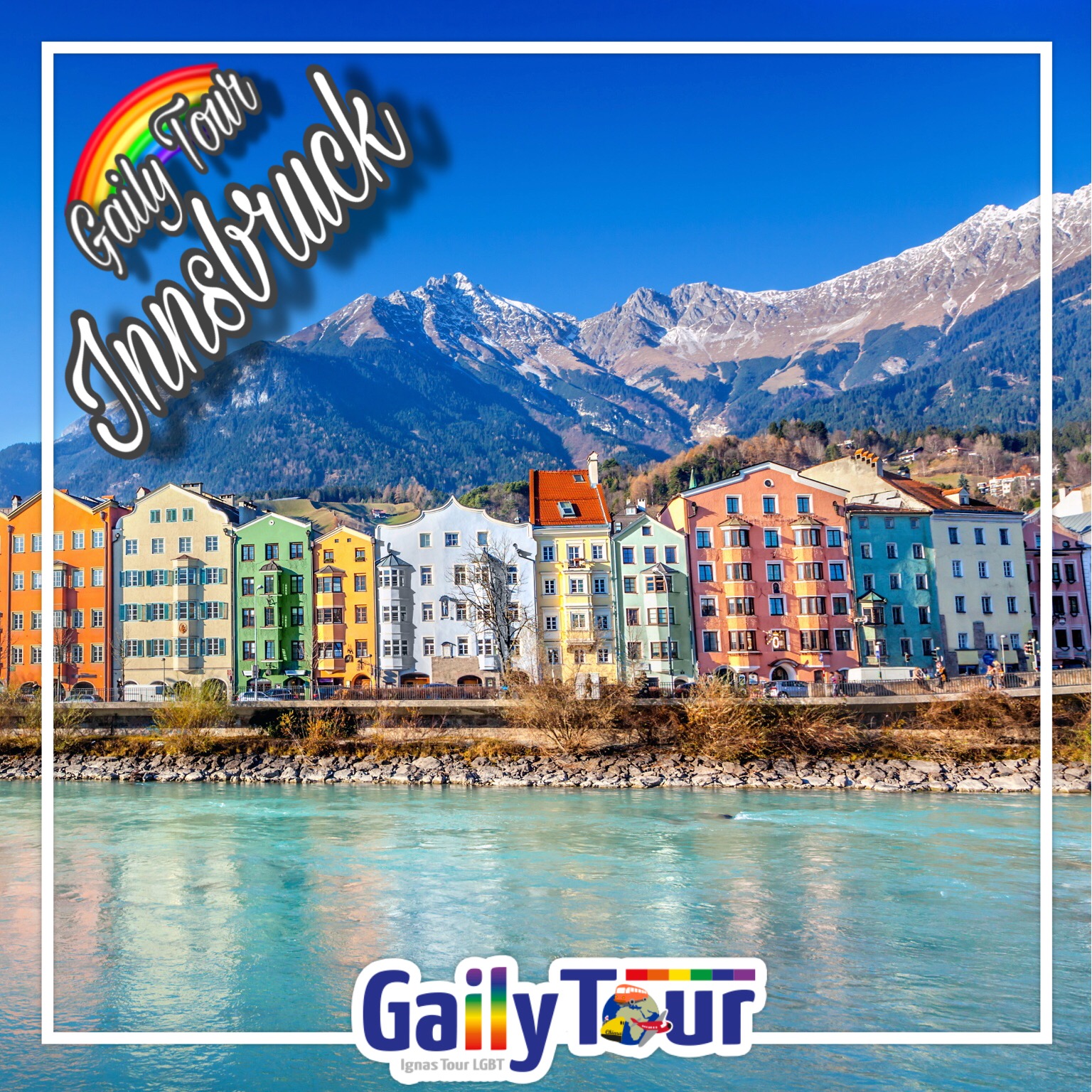 GAILY TOURS in INNSBRUCK
Get ready for special tours in this amazing city !
Meet our Gay/Lesbian Tour Guide for a private walking tour of Innsbruck and experience one of the most colorful cities in the world.

Innsbruck • Panorama Tour
Enjoy a fantastic tour with LGBT Friendly Tour Guide in the Apline city of Innsbruck. Meet you guide and reach the Skijump of Innsbruck and the Tirol Panorama Museum. The Bergisel ski jump is a year-round visitor highlight in Tyrol. The unique architecture of the ski jump tower with panoramic restaurant "Bergisel SKY" and the historical hill "Bergisel", are just a few reasons why. Afterwards explore the museum, an architectural masterpiece in its own right, and it offers a journey through the history of Tirol, building up to the key event that is the battle between Napoleonic troops and the Tyrolean rebels led by Andreas Hofer in 1809, which took place in the exact spot the museum is located today. The TIROL PANORAMA and the Giant Panoramic Painting, which covers some 1,000 sq.m, portrays – in an intriguing and stunning circular format – the Tyrolean struggle for freedom. The large, permanent exhibition entitled "Showcase Tyrol", provides an all-embracing insight into the "Myth of Tyrol", where the themes of religion, nature, politics and the people are presented. After the tour, back to the old town.
Included:
* Gay or Lesbian Tour Guide for City Tour (3 hours)
* Public Transportation Ticket
* Entrance Fee – Bergisel Skijump + Tirol Panorama Museum

Innsbruck • Gay Tour & Imperial Palace's Secrets
Start your gay walking tour through Innsbruck in the Imperial Garden. On our way to the Imperial Palace we make a stop at the new Hungerburg Funicular which was designed by star architect Zaha Hadid. Visit the Imperial Palace, the summer residence of the Habsburg family, you will discover the Giantroom with portaits of the Empress Maria Theresa and here 16 children. Her father Emperor Karl VI (1685–1740), was a gay historical figure. He was rumored to have an intimate relationship with Count Michael Johann III Althan. An enchanting stroll will take us through the gothic old town with emperor Maximilian´s golden roof, the imperial court church, the city tower and St. James cathedral (free entrance). After a stop on the bridge over the river Inn you will see Innsbruck's main shopping street, the Maria Theresa Street with the arch of triumph. We will also show you places where the famous composer Wolfgang Amadeus Mozart stayed overnight.
Included:
* Gay or Lesbian Tour Guide for City Tour (3 hours)
* Entrance Fee – Imperial Palace

Innsbruck by Night • Gay Tour
Enjoy an enlightened Innsbruck and an amazing walking tour through Innsbruck's gay & lesbian bars and clubs to live on your skin the magic atmosphere and LGBT scene of the city. Enjoy your included drink (also alcohol free drink available) and own the night !
Included:
* Gay or Lesbian Tour Guide for Night Tour (2 hours)
* Drink in Gay Bar (1 Drink)


GAILY EXCURSIONS from INNSBRUCK
Get ready for a special full day Gaily Excursion with us !

Vienna (from Innsbruck)
Bolzano & Trento (from Innsbruck)
Munich (from Innsbruck)
Vaduz (from Innsbruck)
Neuschwanstein, Linderhof Palace & Oberammergau (from Innsbruck)

Included Features
Gay or Lesbian Friendly Tour Guide and/or Driver
Every Entrance Fee or Tasting described in the program
Not Included
Tips, City Taxes and everything not listed under "Included features"
LGBT Hotel Collection
N/A
Prices
Innsbruck • Panorama Tour
Innsbruck • Gay Tour
| 10 guests | 9 guests | 8 guests | 7 guests | 6 guests |
| --- | --- | --- | --- | --- |
| € 40 | € 45 | € 50 | € 55 | € 60 |
| 5 guests | 4 guests | 3 guests | 2 guests | 1 guest |
| € 65 | € 70 | € 90 | € 110 | € 200 |
* Price per Person
Rates are Commissionable

Innsbruck by Night • Gay Tour
| 10 guests | 9 guests | 8 guests | 7 guests | 6 guests |
| --- | --- | --- | --- | --- |
| € 40 | € 45 | € 50 | € 55 | € 60 |
| 5 guests | 4 guests | 3 guests | 2 guests | 1 guest |
| € 65 | € 70 | € 90 | € 110 | € 200 |
* Price per Person
Rates are Commissionable

SHARED EXCURSION since you don't need a private one? No Problem !
You can take part to our amazing shared scheduled excursion in English with LGBT Friendly Tour Guide and share this fantastic experience with other travellers.
Contact us at LGBT@ignastour.com for more Info & Prices

* The tours are on request and rates are subject to the availability of the providers at the time of booking. Prices are subject to change if travel occur during trade shows, bank holidays or special events and supplements may be applied.
** Please check before booking the closing dates for the selected museums. If included museums are closed, Ignas Tour will refund the amount of that museum or choose an alternative one to visit.
Contact Us
Largo Cesare Battisti, 28
39044 Egna (BZ) - ITALY
VAT N° - IT01652670215
(+39) 0471 806 692
info@GailyTour.com